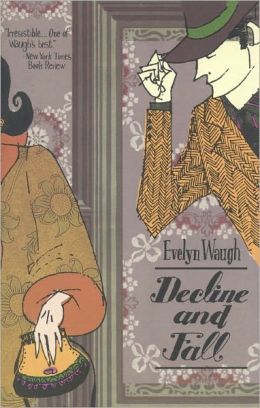 I happened upon a copy of Evelyn Waugh's first novel, Decline and Fall
(published in 1928)
,
by accident; my husband had borrowed it from my daughter, who had picked it up in a second-hand bookstore for fifty cents. My only previous experience with Mr. Waugh's work had been
Brideshead Revisited
, which I read maybe twenty years ago, so I wasn't sure if I was going to enjoy his first book, especially with such a title. As it turned out, the title had nothing to do with the demise of the Roman Empire, and I enjoyed it very much.
First, let me warn you that if you don't like the work of P.G. Wodehouse, author of the Jeeves and Wooster books, than you probably won't like this. It has the same kind of silliness, although in this case, it's not the foolishness of an empty-headed young man of the privileged class, but a young man of humbler, although not humble, background.
Paul Pennyfeather is an orphan who is "reading for the Church" at Oxford when he has the misfortune of being in the garden quad of Scone College on the night of the Bollinger Club's annual dinner. A very drunk member of that club catches Paul on his way back to his rooms and takes offence at Paul's tie. Paul is stripped and escapes through the quadrangle "without his trousers." He is expelled for indecent behaviour, and his guardian cuts off his allowance, forcing him to take a position as a teacher at an inferior boys' school. That he should still be qualified to teach at a boys' school under the circumstances, something which the honest young man doesn't hide from the scholastic agent looking for applicants, is a forgone conclusion. In fact, Dr. Fagan, who owns the school, says: "I have been in the scholastic profession long enough to know that nobody enters it unless he has some very good reason which he is anxious to conceal." Still, under the circumstances, he offers Paul the position for ninety pounds instead of one hundred and twenty, and Paul finds himself teaching subjects he has no background in, including giving lessons on the organ. He is dropped into a world peopled by odd but memorable characters, and embarks on an adventure that will lead to his ultimate ruin and resurrection.
Decline and Fall is a cheery, ironic story about the British school system and the upper classes who send their boys to these private schools, and it was a delight to read. If you enjoy the British sense of humour, I recommend it to you highly.
If you would like to be contacted about upcoming book releases, please leave your information in the "Contact Cathy" app to the right of this post.