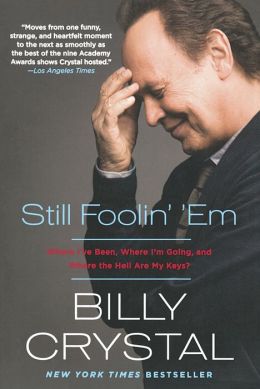 I just finished reading Billy Crystal's new autobiography, Still Foolin' 'Em, and I enjoyed it very much. I watched part of an interview between him and Whoopi Goldberg on The View, and apparently the audiobook is even better because Billy narrates it himself. But I could hear his voice as I read, so familiar to me from his Oscar hosting and roles in movies like When Harry Met Sally and City Slickers, and it was almost as good.
Billy has reached the age of 65, and reminisces about his childhood and the highlights of each of his decades, starting with his twenties. There are tons of jokes, and anecdotes about his sports heroes - Muhammad Ali and Micky Mantle, in particular - and the celebrities who helped him along the way. There are also insights into his experiences as a son, brother, husband, father, and grandfather, both funny and sentimental. And the picture on page 50 made me roar with laughter. Don't peek ahead of time. Read the build-up, and you'll enjoy it even more.
I would caution those people who can't stand profanity to stay away, but it sounded perfectly natural to me in the context.
Here's the Barnes & Noble purchase link.
If you would like to receive a note when a new Cathy Spencer novel is released, just leave your name and e-mail address with the "Contact Cathy" app to the right of this post.