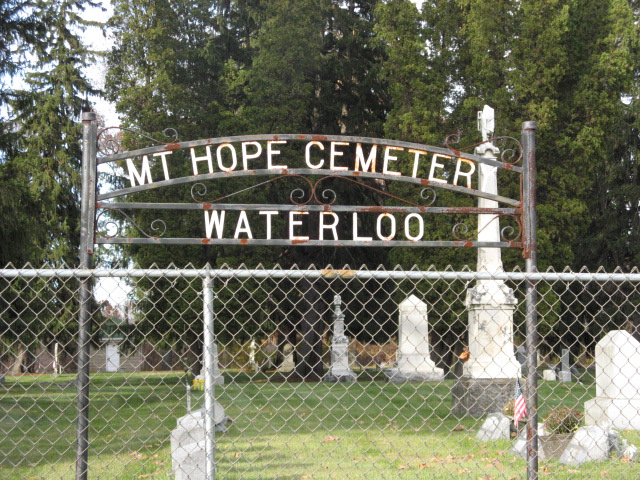 Sorry that it's been so long since I've posted to my blog, but I've been very busy since the start of 2015. I was fortunate to be able to devote about a year and a half to my writing, but it was time to look for work outside the home and return to the comforts of a full-time paycheque. I started to look for employment in Oakville, Ontario, where my husband and I were living at the time, but we began to question where we wanted to put down roots. In the end, we decided to return to K-W, as the locals call the twin cities of Kitchener and Waterloo, and home for the first thirty years of my life. We moved back at the end of May, and I secured temporary employment with the University of Waterloo. Life is beginning to settle into a pattern, if you can say that after only one week on the job.
We were out for a bit of a drive today, and I said, "Let's go to Mount Hope Cemetery to look for inspiration for my next book cover." Mount Hope is the home of the statue that was used for my first mystery cover, Framed for Murder. It inspired me to use cemetery photographs as the theme for my Anna Nolan mystery covers. Mount Hope is great because it's an older cemetery with many graves from the 19th century when statuary was popular.
Here's a picture of the statue that was used for Framed. I love her, and I've never seen her anywhere else. I call her "the mournful lady."
And here's a picture of the e-book cover, so that you can see the final version.
The next two covers were actually created from photographs from the old municipal cemetery in Hamilton, where we were living two years ago. Hah - in Hamilton, not in the cemetery! The second book, Town Haunts, takes place around Halloween. I came up with the idea of using jack-o-lanterns in front of a mausoleum. I'm very proud of the cover; I carved the pumpkins myself. This gives you an idea of the size of the mausoleum.
And here's the final cover. Not a lot of mausoleum left, but you get an impression of it.
The third book, Tidings of Murder and Woe, was a break from tradition in that I took the cover photos myself. My husband, who once had his own professional photography business - you have to have a lot of careers when you're a performer - took the photos for the other covers, but he must have been unavailable that day. I wanted to take a stab at it myself, so back I went to the Hamilton cemetery with my own Christmas wreath and a few decorations. Here's the finished cover.
The fourth Anna Nolan book will take place during the summer when Anna and her RCMP sergeant boyfriend, Charlie, return to the lakeside town where Anna grew up to visit her estranged father. One thing you have to keep in mind with book covers is that you have to think ahead. The photo must be taken in the appropriate season, even if you haven't set down a single word yet. I'm thinking of imposing a cemetery statue over the image of a beach this time. The title might be Vacation with Death, or possibly Murder at the Beach. If you have a preference, by the way, feel free to leave a comment. And visit your local cemetery to see if there are any beautiful monuments or statuary you're missing out on. It's all art, after all.