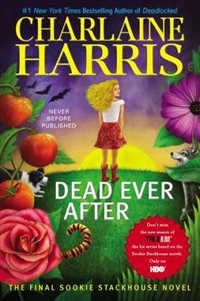 Dead Ever After
The Final Sookie Stackhouse Novel
I'm a big fan of Charlaine Harris' books, including the Lilly Bard "Shakespeare" series, the Harper Connelly ("I feel dead people"), and the flag ship of them all, Sookie Stackhouse. Oddly, I never got into the Aurora Teagarden books, but three out of four is darn good.
I just finished reading the final book in the Stackhouse series,
Dead Ever After
, and put it down with a contented sigh. This book is like a curtain-call for many of the series characters, those that are still alive, that is, and Ms. Harris ties all the loose ends together. She has created a universe with all its own rules, just like Terry Pratchett has with the "Disc World" and JK Rowling with "Harry Potter," and that's no mean feat. Sookie is unique, however. Her heroine is a waitress considered dim-witted by those unfamiliar with her mind-reading abilities; someone who tries to improve her education with a new word-a-day calendar. Her world revolves around the bar Sookie works at in a small southern American town, her only family a self-engrossed brother, and she has few real friends. But into this microcosm of a world, Harris had introduced vampires, shape-shifters, fairies, and demons - the mundane with the supernatural - and made it both endearing and exciting.
I look forward to seeing where Ms. Harris takes us to next. I intend to come along for the ride - do you?