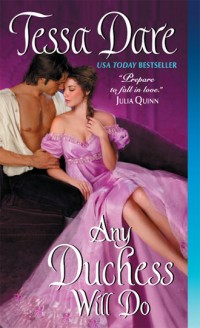 I just finished reading Tessa Dare's regency romance Any Duchess Will Do. It came to my attention because it had won an award, and now that I look at Ms. Dare's website, I see that it has several accolades. At any rate, it was fun, if a departure from my regular reading.
The premise of the story is that the impatient mother of a wayward duke promises that she can make any woman he chooses at a seaside retreat for unmarriageable young ladies into a duchess if he will promise to marry her. Looking to make an impossible challenge for his mother, he chooses a young serving woman from a pub. Of course, since this is a genre love story, there are many other obstacles in the path of this feisty couple, and the relationship they forge for themselves at the end is pretty unconventional, but it was an imaginative story with good character development, and I enjoyed it. I do confess that I skimmed through the rest of the sex scenes looking for salient plot points
after having read the first
, but since the story is 373 pages, there was still plenty for me to read.
If you like Avon regency romances with a bit of a plot twist, I suggest that you try this one.
If you would like to be contacted about upcoming book releases, please leave your information in the "Contact Cathy" app to the right of this post.