Smashwords had a brilliant idea. In the month of July, it's summer for those north of the equator and winter for those south. So whether you're sunning on the beach or wrapped up snug in a blanket in front of a blazing fire, why not grab one of my books at a great sales price,
or even for
free
, during the Smashwords July Summer/Winter Sale 2016! Use a coupon code at checkout to get the following great deals.
Framed for Murder
, the award-winning first novel in the Anna Nolan series, is FREE! (coupon code
SFREE
at checkout)
And I didn't stop there. I also put the romances into the sale. You can laugh and sigh with my contemporary romance,
The Dating Do-Over
, for just $1 (coupon code
SSW50)
,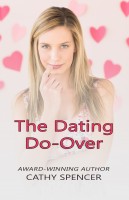 The sale only lasts until July 31, 2016, so hurry to buy these books from
Smashwords
at these incredible savings.
If you'd like to be notified when new novels are released, just leave your name and e-mail address with the Contact Cathy app to the right of this post, and I'll include you on my mailing list. Cheers!